That is one of the best place to visit on the Lake Tahoe!
Welcome to Emerald bay!
1. Here you see the view from the plane.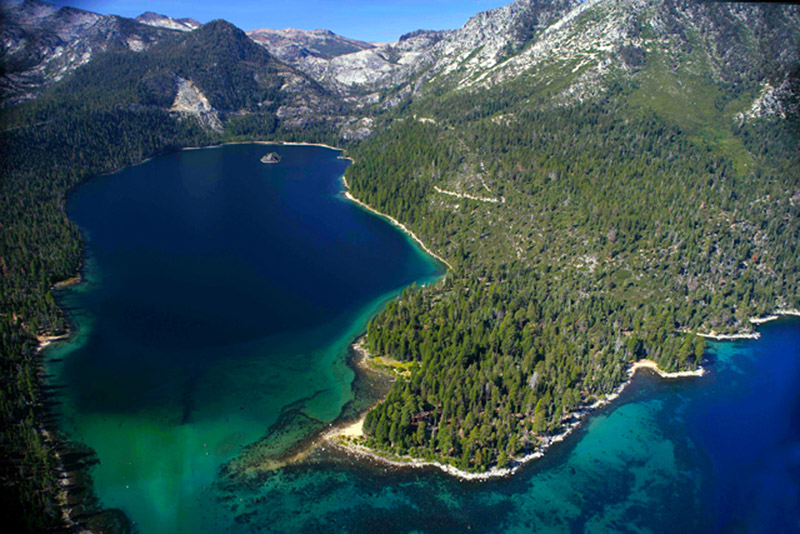 2.  "The only island in Lake Tahoe is Fannette Island…Emerald Bay is one of Lake Tahoe's most photographed and popular locations." source
3. So before we had come to our final destination we had a walk on the beach.
4. Behind the trees there is the Emerald Bay itself.
5. Our transport from Tahoe city  to south is Trolley
6. Almost a cable car.
7. And here we are.
8. NO COMMENTS
9. Now, please look at the photo. In the down right conner there is Vikingsholm, which is a 38-room mansion on the shore of Emerald Bay.
10.  That is considered one of the finest examples of Scandinavian architecture in the United States. The Vikingsholm foundation was laid in 1928, but the building was constructed in 1929 by 200 workers. Vikingsholm was built by Mrs. Lora Josephine Knight as a summer home. Some parts of the structure contain no nails or spikes, as a result of old-fashioned construction methods. Most of the building was made from materials found at Lake Tahoe.  source
11. Vikingsholm, along with the "Tea House" on Fannette Island and Emerald Bay, is a part of Emerald Bay State Park. Emerald Bay has also been declared a National Natural Landmark. Unfortunately we didn't go to the castle but the point is how proud are Americans about there short history.
12. Back to Kings Beach.